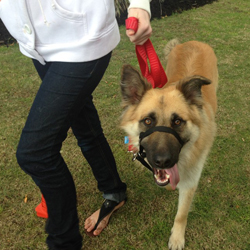 The course provides a basic understanding on dogs body language and communication, improving your training techniques and teaching your dog in an easier fun way. The course consists of 6 lessons completed over 6 weeks and is for dogs over 6 months of age!  Reward based methods are used throughout the training course. 
You will learn:
General manners, such as jumping up and relaxing on leash, and practical obedience to help improve your lifestyle with your dog at home and outside in different fun environments.
How to use leads and any humane training aids correctly (Flat collar, martingale, Head Hatli or front connection harness)
Walking on a loose lead
Short & long lead recall
Short & long lead stay
Heeling
Heeling and passing other dogs
Weaving changing pace exercises
The last class is a beach lesson!
PLEASE NOTE: If your dog displays any AGGRESSION towards other dogs please contact the trainer first and discuss BEFORE booking, thank you kindly.
Venue: Address will be emailed upon registration:
Halls Head, WA 6210
Next course starting: SATURDAY the 14th of April 8.30 AM .  CLICK here for registration
For extra details please contact Debbie.